Places You Shouldn't Miss When Visiting San Francisco
What comes to mind when you think of one of the most popular and desirable cities in California to visit? It's San Francisco for me. The nightlife of San Francisco, sourdough bread, and the Golden Gate Bridge. Some visitors have even left their hearts in the city. San Francisco is on almost every traveler's bucket list. There are so many places and things to explore like live arts in San Francisco, live music, live shows, and other live events, all to make a memorable trip!
Whether you're a first-time visitor or a long-time resident, the city has something for everyone. Make sure to keep yourself updated on upcoming events in San Francisco. Here are some places you should be sure to check out:

California Academy of Sciences:
The California Academy of Sciences is located on Nancy Pelosi Drive in the Golden Gate Park. There are several public transit options around the park, but the Irving St. & 9th Ave. Muni metro stop is the closest to the California Academy of Sciences. The academy is open Monday through Saturday from 9:30 a.m. to 5 p.m., and Sundays from 11 a.m. to 5 p.m.

Golden Gate Park:

The Golden Gate Park in California is like Central Park in New York. Though it receives a fraction of the visitors that its New York equivalent does (Central Park receives upwards of 25 million visitors each year, whereas Golden Gate receives more than 13 million). However, the Golden Gate Park is over 1,000 acres whereas Central Park is 843 acres. The Park has so much to see and do. One could easily spend a whole day taking in all that the park has to offer. Within its evergreen confines are trails, scenic picnic areas, playgrounds, sports courts, gardens, museums, and more. It's best to plan ahead what you want to see and do.
Punch Line Comedy Club:

Widely known as the most beloved comedy club in San Francisco, this is a must-visit place for the ones who are interested in exploring comedy shows in San Francisco. It has seating for 200 people and you may see celebrities sitting next to you as visiting the place is quite popular amongst the famous. If you're a fan of stand-up comedy like the ones you've seen on HBO, you're definitely going to love this place.

Alcatraz:

Approximately one million people visit Alcatraz Island each year. Alcatraz, according to recent visitors, is a must-see destination. Travelers remark that being able to walk through the cells is a highlight. There is an audio tour (free with ferry tickets) including inmates names which adds to the experience. Furthermore, visitors believe The Rock's view of the bay is spectacular.
Bottom of the Hills:
Described as the best place for live music in San Francisco, Bottom of the Hills is the best choice for people who want to enjoy music in a great environment. Music is performed seven nights a week, by local and international artists.
Sheba's piano lounge:
Live music in San Francisco is a must experience for all travelers and residents alike. If you're looking for a place that has great music and a great environment, Sheba's Piano lounge could be the perfect place for you. Delicious Ethiopian food is served in a relaxed setting including a fireplace which makes for a cozy environment.

Cable cars:

The cable car system in San Francisco is the last of its kind in the United States, having been designated as a National Historic Landmark in 1964. After seeing an accident involving a horse-drawn buggy trying to ascend a high San Francisco hill and failing, Andrew Smith Hallidie, an immigrant from England, came up with the idea for the cable car. His father possessed a patent in England for wire rope, which he utilized to design a transportation system based on it. In the late 1800s, cable cars were born. Tourists come to ride the cable cars, despite the fact that residents rarely use them (due to their limited transport network and exorbitant fares).
San Francisco Symphony:
If you want to experience the best theater in San Francisco, you must check out the San Francisco Symphony! Major events take place from September through July.

Baker Beach: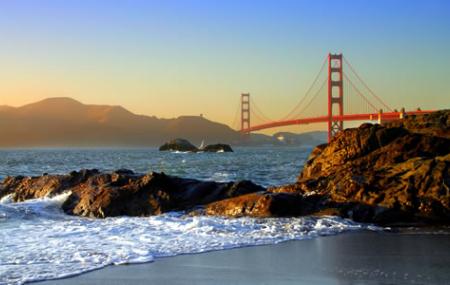 Travelers come here to take pictures of the bridge, but if you want to get some sunshine or get your feet wet, this is not the beach for you. Irrespective of the time of year you visit, travelers strongly advise on packing an additional layer as it can get quite cool here year-round.