Must-Visit Events To Attend in Los Angeles
Everyone has their own "L.A" stories to share. One thing's for sure about those stories which are none of them sounds pretty normal, all of them are filled with fun, adventures, unforgettable memories be it good or bad. That's the thing about Los Angeles, everything is on the next level here. One should always remain updated with upcoming events in Los Angeles so that you don't miss out on a single one!
Los Angeles is a vibrant, ever-changing destination where everyone is welcome. It is made up of 30 culturally different neighbourhoods, each with its own distinct atmosphere. L.A. offers immersive experiences for every taste and interest, with near-perfect weather, 75 miles of magnificent beachfront, great arts in Los Angeles and culture, not to forget sports and outdoor activities are really good!
Whether you like to enjoy the day markets or are fond of nightlife, Los Angeles is definitely a place that covers it all. Undoubtedly, Los Angeles nightlife has its own unique vibe. However, there are definitely some events you should definitely attend irrespective of the time:
Hollywood Christmas parade
Hollywood conjures up visions of movie stars and high-end lives, and people come from all over the world to visit the landmark Hollywood Walk of Fame, Chinese Theatre, and get a close look at the famous Hollywood sign. However, parties aren't the only way to enjoy this place. Many visitors come to the region to relax with a picnic and watch a show in the Hollywood Bowl.
Macy's 4th July event:
Vibes on 4th July are completely different from all days of the year. On July 4th, the night sky over Los Angeles comes alive with a stunning patriotic fireworks display. The best seats in town are at the Hollywood Bowl, where big-name acts sing their greatest hits and usher in the joyful fireworks.
Golden dragon parade:
The Golden Dragon Parade, one of the city's oldest and most popular municipal events, ushers in the Chinese New Year in great style. This yearly parade, which has been going on for over a century, is a perfect occasion to eat dim sum or any of L.A.'s excellent food truck goodies, engage the kids in a variety of all-ages activities, and take in the rich cultural tapestry that makes Los Angeles such a dynamic and diverse city.
Us open surfing
This was one of the highlights of our journey. At high tide, the waves are spectacular. There were a lot of people, but it wasn't overcrowded. There are plenty of excellent restaurants and shopping opportunities. Families will feel very at ease and secure. The majority of the attendees were in their 20s and 30s. I couldn't believe how good the surfing was! It's a very vibrant atmosphere, but it's also really soothing.
Beautycon Los Angeles :
With an increasing infusion of business executives and hipsters, there is a distinct diversity of cultures here. Gentrification is a term used to describe the transformation of Downtown in recent years. Every few months, new lofts, bars, hotels, and restaurants open their doors. Downtown is home to some of the top restaurants in the city, leading the LA cuisine scene, as well as cultural and sporting landmarks such as the Walt Disney Concert Hall, the Staples Center, and the University of Southern California's Coliseum.
Fiesta Broadway: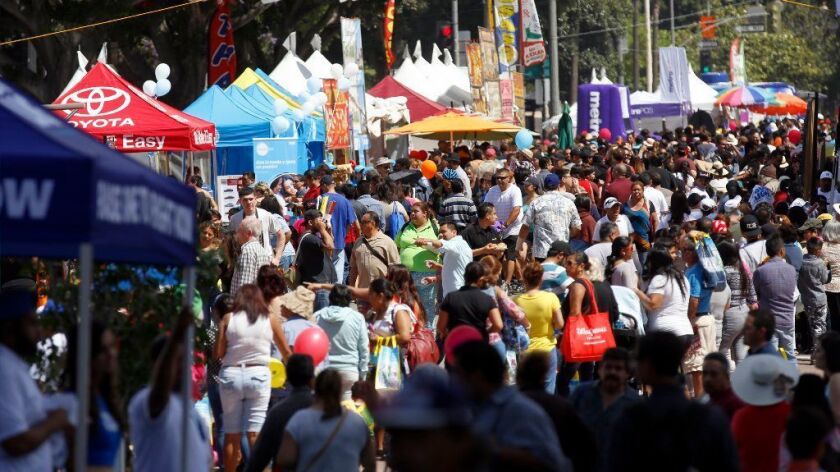 This downtown Los Angeles street fiesta is commonly regarded as the world's largest Cinco de Mayo celebration. The free fiesta spans nearly 40 blocks and features top-billed Latin musicians performing live music, family-friendly activities, and an opportunity to learn about Mexican culture in an exuberant atmosphere.
Cirque Sanity: 
The Most Enchanting Boutique Comedy Show in Los Angeles Sip delectable cocktails while watching CirqueSanity's Cabaret of Enchantment, the most intimate circus experience available. There are VIP tables available. Petit Voila weaves a tale of enthralling characters, acrobatics, fire, and magic, all set to live music by Gypsy Jazz Bands, Acoustic Blues, and a cast of exceptionally gifted guest performers.